Overview on current vaccine studies against COVID-19 worldwide
When the Europeans invaded the South American territories in the 16th century, they also brought infectious diseases from Europe into the newly conquered territories, with some disastrous consequences for the indigenous population living there [1]. The reason for this was a lack of immunity of the South American population against the foreign pathogens from Europe. Such a scenario impressively illustrates how important an existing immunity, acquired through natural exposure to the pathogen or , in modern times, through a vaccination, is for the vulnerability against a pathogen. In order to reduce the danger posed to humans by the new coronavirus SARS-CoV-2, a suitable vaccine is therefore feverishly sought worldwide.
Numerous research teams are currently working on this task. A large number of possible vaccine platforms are currently being investigated (overview by Le et al in Nature Reviews, [2], Fig. 1).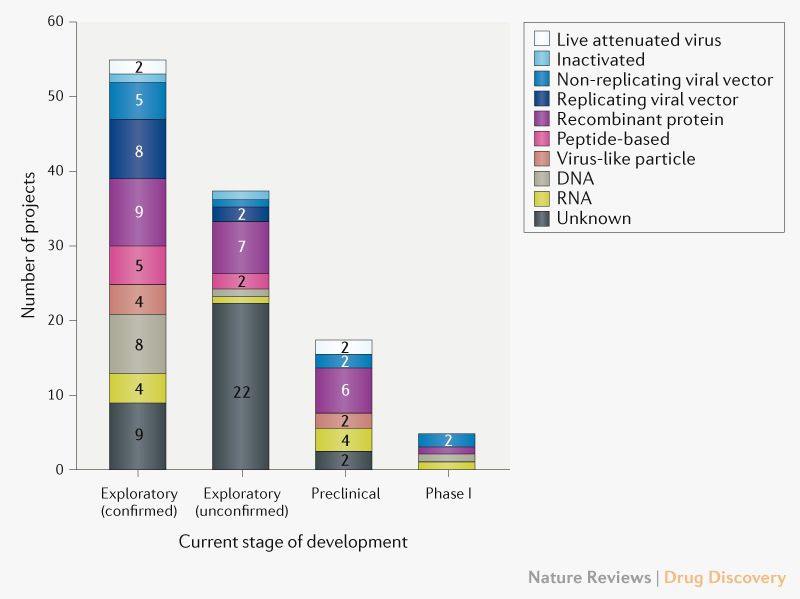 Fig. 1: Pipeline with vaccine candidates against COVID-19 grouped by technology platform. Exploratory projects (subgrouped in confirmed and unconfirmed) are in an early planning stage without in-vivo-tests, and preclinical studies are in the stage of in-vivo-tests and/or the production of material for clinical studies. Source: Le et al, Nature Reviews Drug Discoveries [2]
All vaccines aim to expose the body to an antigen that does not cause disease but produces an immune response that can block or kill the virus when a person becomes infected. For an illustrative explanation of how the different types of vaccines tested against the corona virus work, see a review article by Nature.
In addition, the Vaccine Centre at the London School of Hygiene & Tropical Medicine provides a tracker on its website that allows COVID-19 vaccine candidates to be tracked as they progress through the development phases. The status is updated weekly. To the vaccine tracker
Clinical studies
The global pandemic has led to a strong emphasis on research into a suitable vaccine against COVID-19. In the meantime, some vaccine candidates have already made it into clinical trials. Below you will find an overview of the vaccine candidates that have already been approved for clinical trials.
Tab. 1: Overview of the vaccine candidates approved for clinical trials (updated: 15.07.2020)
vaccine candidate

developer/ sponsor

technology

phase

location

registration no/ link

period

applied also for...

Ad5-nCoV

CanSino Biologics, Institute of Biotechnology of the Academy of Military Medical Sciences

recombinant adenovirus type 5 vector

Phase I-II

China

Phase 2: ChiCTR2000031781; Phase1: ChiCTR2000030906

March 2020 to December 2020

Ebola

ChAdOx1 nCoV-19

University of Oxford

adenovirus vector

Phase I-III

United Kingdom

Phase 3: ISRCTN89951424; Phase2b/3: 2020-001228-32; Phase 1/2: PACTR202006922165132 2020-001072-15

April 2020 to May 2021

MERS, influenza, TB, Chikungunya, Zika, MenB, plague

BNT162 (a1, b1, b2, c2)

BioNTech; Fosun Pharma; Pfizer

RNA

Phase I-II

Germany

April 2020 to May 2021

unnamed

Sinovac Biotech

inactivated SARS-CoV-2 virus

Phase I-III

China

Phase 3: NCT04456595
Phase 1/2: NCT04383574, NCT04352608

April 2020 to December 2020

SARS

INO-4800

Inovio Pharmaceuticals, CEPI, Korea National Institute of Health, International Vaccine Institute

DNA plasmid delivered by electroporation

Phase I-II

United States, South Korea

April 2020 to November 2020

Lassa, Nipah, HIV, Filoviris, HPV, Cancer indications, Zika, Hepatitis B

mRNA-1273

Moderna, US National Institute of Allergy and Infectious Diseases

lipid nanoparticle dispersion containing messenger RNA

Phase I-III

United States

Phase 3 (not yet recruiting):NCT04470427 Phase 2: NCT04405076
Phase 1: NCT04283461

March 2020 to 2021

multiple candidates

Covid-19/aAPC

Shenzhen Geno-Immune Medical Institute

lentiviral vector, pathogen-specific artificial antigen presenting dendritic cells

Phase I

China

March 2020 to 2023

LV-SMENP-DC

Shenzhen Geno-Immune Medical Institute

lentiviral minigene vaccine, dendritic cells modified with lentiviral vector

Phase I

China

March 2020 to 2023

bacTRL-Spike

Symvivo Corporation, University of British Columbia, Dalhousie University

DNA, bacterial medium (oral

Phase I

Canada

April 2020 to December 2021

CHO Cell

Anhui Zhifei Longcom Biopharmaceutical/ Institute of Microbiology, Chinese Academy of Sciences

Protein Subunit: Adjuvanted recombinant protein (RBDDimer)

Phase I-II

China

Phase 2: NCT04466085; Phase 1: NCT04445194

July 2020 to December 2021

MERS

AG0301-COVID19

Osaka University/ AnGes/ Takara Bio

DNA plasmid vaccine + Adjuvant

Phase I-II

Japan

Phase 1/2: NCT04463472

June 2020 to July 2021

unnamed

Cadila Healthcare Limited

DNA plasmid vaccine

Phase I-II

India

Phase 1/2: CTRI/2020/07/026352 (not yet recruiting)

unnamed

Beijing and Wuhan Institute of Biological Products/Sinopharm

Inactivated

Phase I-II

China

Phase 1/2: ChiCTR2000031809; ChiCTR2000032459

BBV152

Bharat Biotech

Whole-Virion Inactivated

Phase I-II

India

Phase 1/2: CTRI/2020/07/026300

July 2020

SARS-CoV-2 rS

Novavax

Full length recombinant SARS CoV-2 glycoprotein nanoparticle vaccine

Phase I-II

Australia

Phase 1/2: NCT04368988

May 2020 to July 2021

RSV; CCHF, HPV, VZV, EBOV

GX-19

Genexine Consortium

DNA Vaccine

Phase I

Korea

June 2020 to June 2022

unnamed

Institute of Medical Biology , Chinese Academy of Medical Sciences

Inactivated

Phase I

China

May 2020 to September 2021

Gam-COVID-Vac

Gamaleya Research Institute

NonReplicating Viral Vector Adeno-based

Phase I

Russia

June 2020 to August 2020

SCB-2019

Clover Biopharmaceuticals Inc./GSK/Dynavax

Native like Trimeric subunit Spike Protein vaccine

Phase I

Australia

June 2020 to March 2021

HIV, REV Influenza

COVAX19

Vaxine Pty Ltd/Medytox

Recombinant spike protein with Advax™ adjuvant

Phase I

Australia

June 2020 to July 2021

SARS-CoV-2 Sclamp vaccine

University of Queensland/CSL/Seqirus

Molecular clamp stabilized Spike protein with MF59 adjuvant

Phase I

Australia

Nipah, influenza, Ebola, Lassa

COVAC1

Imperial College London

LNP-nCoVsaRNA

Phase I

England

June 2020 to July 2022

EBOV; LASV, MARV, Inf (H7N9), RABV

CVnCoV Vaccine

Curevac AG

mRNA

Phase I

Germany

June 2020 to August 2021

RABV, LASV, YFV; MERS, InfA, ZIKV, DENV, NIPV

unnamed

People's Liberation Army (PLA) Academy of Military Sciences/Walvax Biotech

mRNA

Phase I

China

Coronavirus-Like Particle COVID-19 Vaccine

Medicago Inc.

Plant-derived VLP adjuvanted with GSK or Dynavax adjs.

Phase I

Canada

July 2020 to April 2021

Flu, Rotavirus, Norovirus, West Nile virus, Cancer
In addition, numerous vaccine candidates are being investigated worldwide in laboratory and animal studies. At present, it appears that ferrets as well as guinea pigs and genetically modified mice could be suitable as model systems for research into SARS-CoV-2 vaccine candidates. The WHO maintains a list of candidates currently in the preclinical investigation phase. You can find the WHO list online here. The Milken Institute has also compiled a comprehensive overview of ongoing studies on drugs and vaccines for COVID-19. You can find the overview online here.
An interview about vaccine development with a member of the internal advisory board of the Zoonoses Platform, PD Dr. Michael Mühlebach, you can find here.
Literature:
1. Vagene, A.J., et al., Salmonella enterica genomes from victims of a major sixteenth-century epidemic in Mexico. Nat Ecol Evol, 2018. 2(3): p. 520-528.
2. Thanh Le, T., et al., The COVID-19 vaccine development landscape. Nat Rev Drug Discov, 2020.